Our family's big trip this summer was to Colorado. My brother Alex moved to Colorado Springs shortly before the pandemic, and although we've seen him several times since then, we hadn't visited him. And we had never been to Colorado. So we took a week and split our time between staying with him and staying with our friends Emily and Kendall, in Longmont.
It's a 30-hour drive, one way, so we flew to Denver. It was an uneventful, although crowded, flight. Silas was excited to see "Blucifer," which Alex pointed out on our way out of the airport.
The same week we were there, Alex had another house guest—our cousin Owen's dog, Appa, was staying with him for the week. The kids were thrilled; not only did they get to hang out with Alex's three cats, but they also got to cuddle with this ridiculously sweet golden retriever.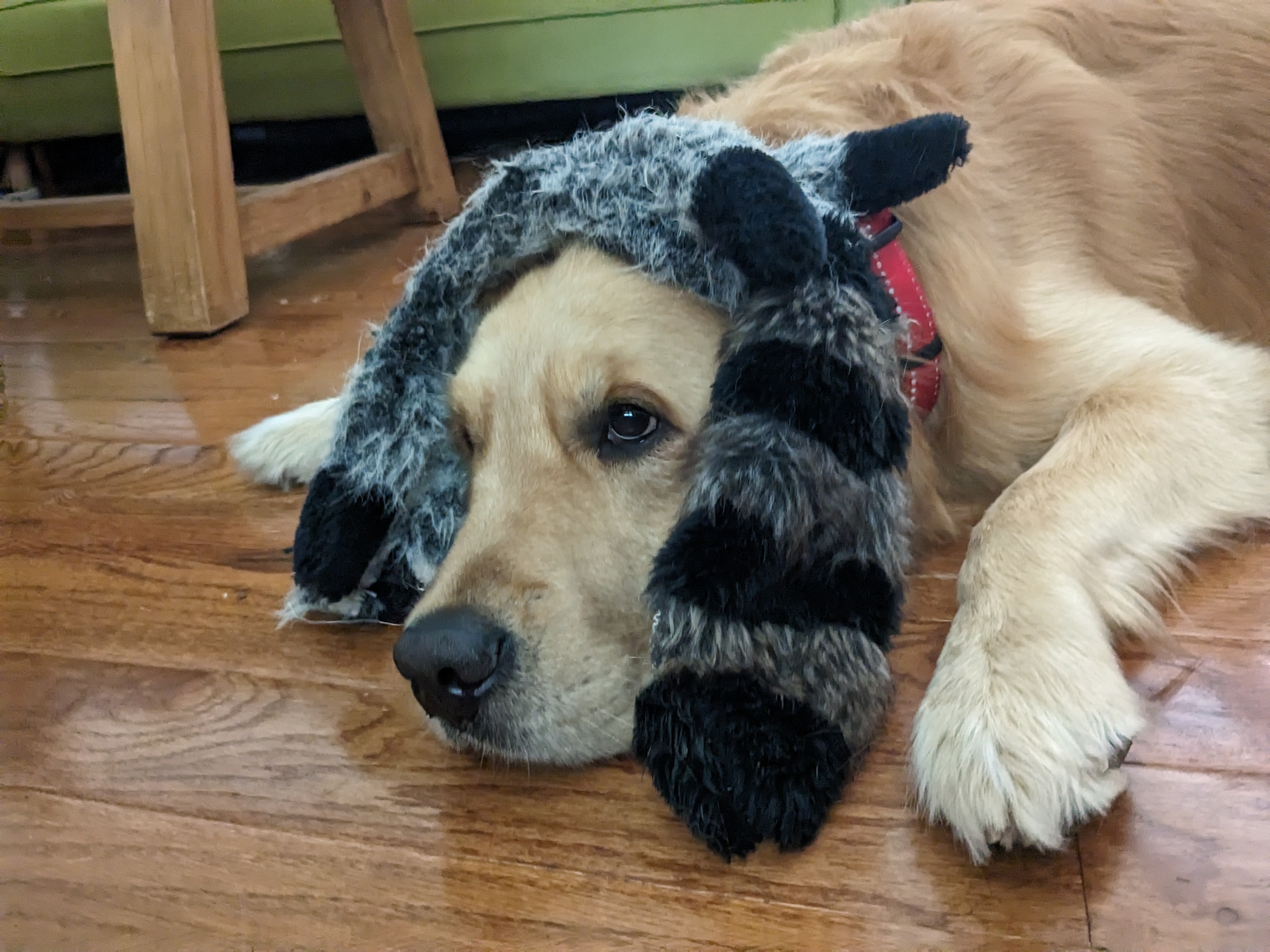 The kids were impressed with Alex's life, from a cat tree in every corner to an emulation library that lets him play basically every video game ever invented. Both of them were very clearly rethinking what adulthood can be.
After Alex got us settled in, we went to Manitou Springs to check out the penny arcade. This place just goes on forever, and it has piles of arcade games from all different eras, crowded together. Most of them cost whatever they would have back in the day, so you can pay a penny or a nickel for some of the oldest ones. JC and I played Victorian fuseball, which was…frustrating. I also checked out a peep show, which was … a hoot. Alex arm-wrestled a robot. Silas tried out shooting and racing games, and got his fortune from a real Zoltar machine. Petra turns out to be a pinball wizard (although I think she was a bit overstimulated by all the lights and noise). They even had ski-ball, complete with tickets and prizes.
A few days later, we were chatting with a Lyft driver, and she told us that all those penny arcade machines are maintained by one guy. "Who knows what will happen to all of it when he retires. There's nobody who knows how to fix those things anymore." Antique game maintenance is a dying art, but I would never have thought of it. I'm impressed that one guy has managed to keep all those machines working for so long!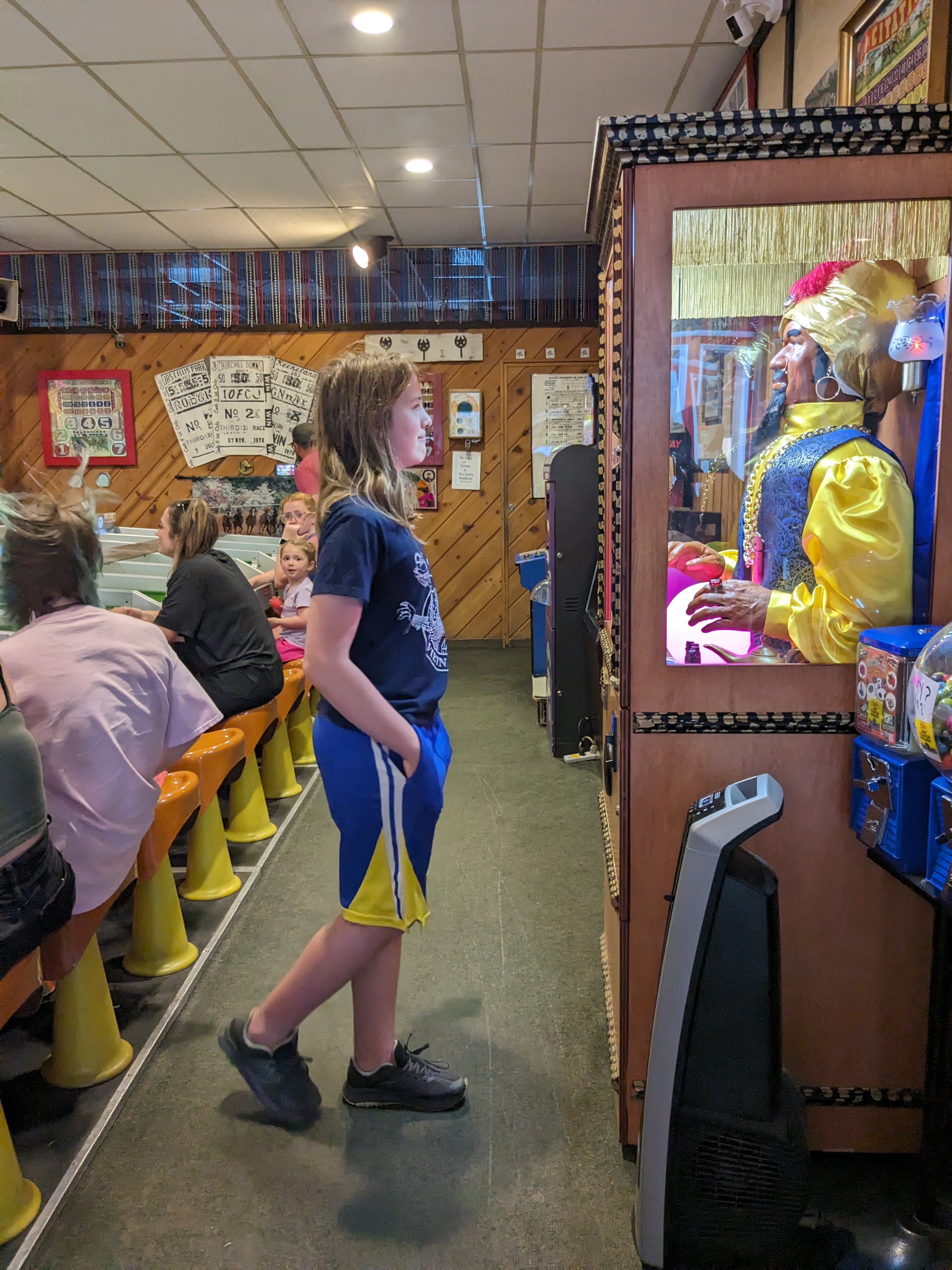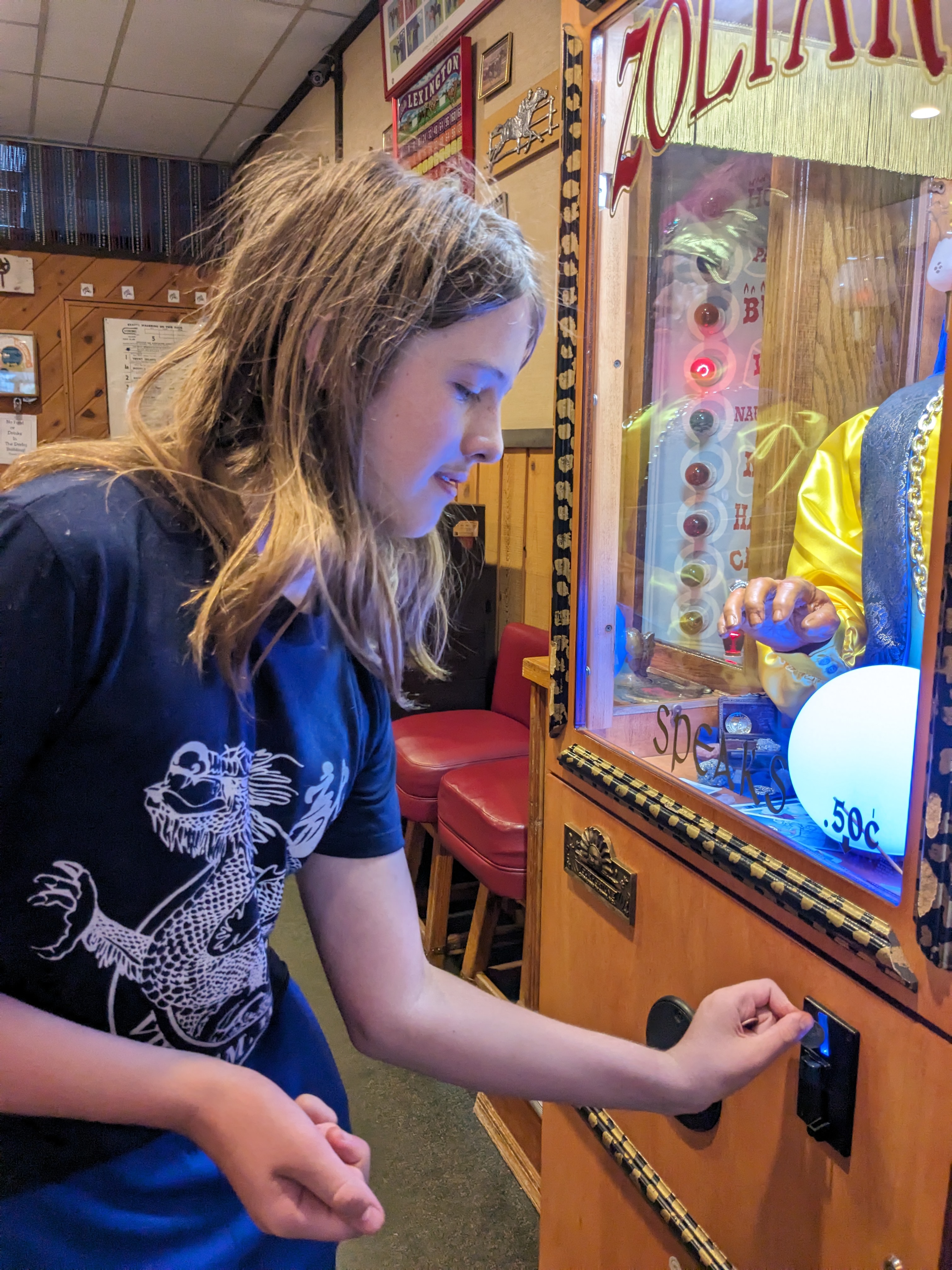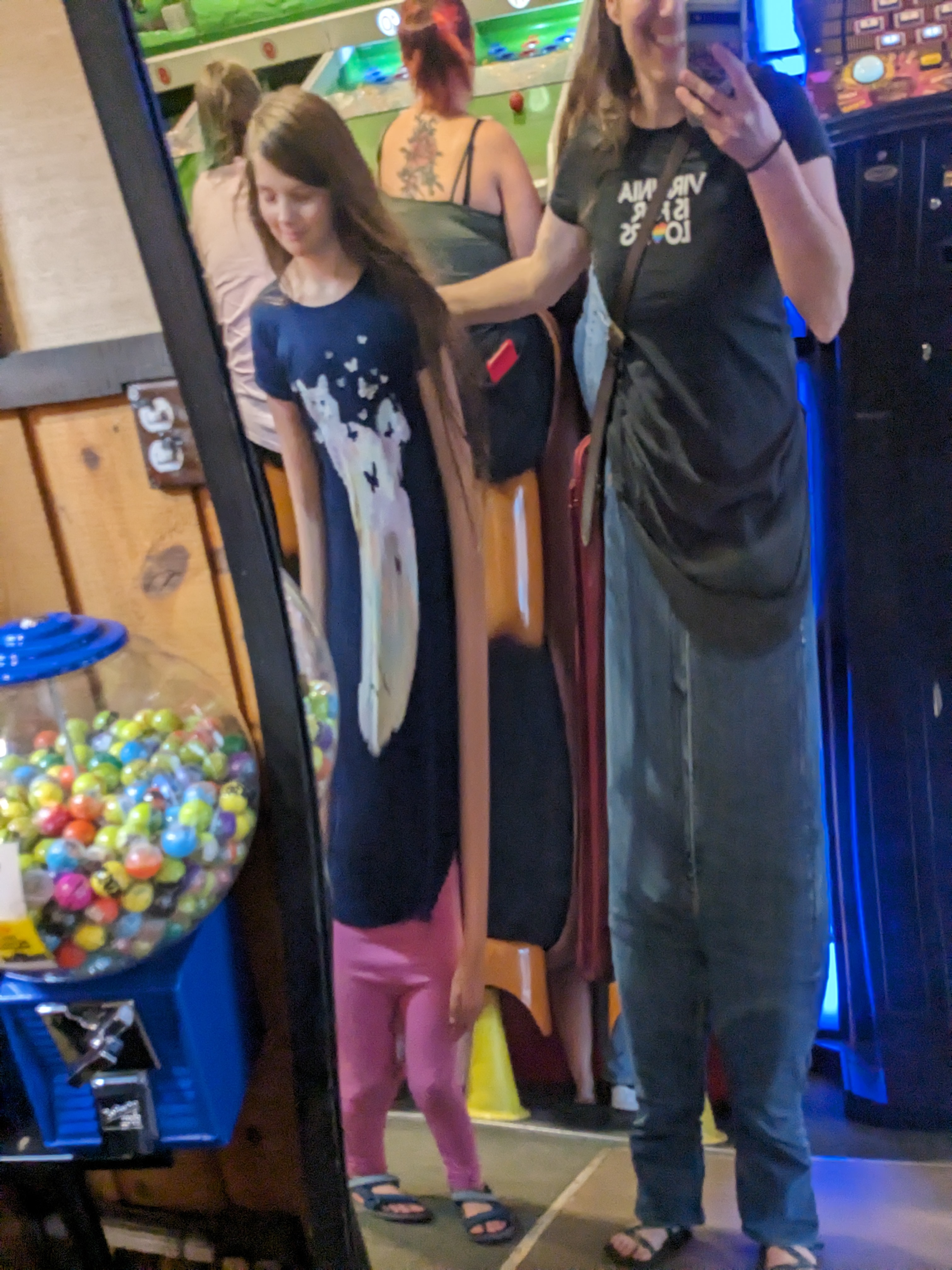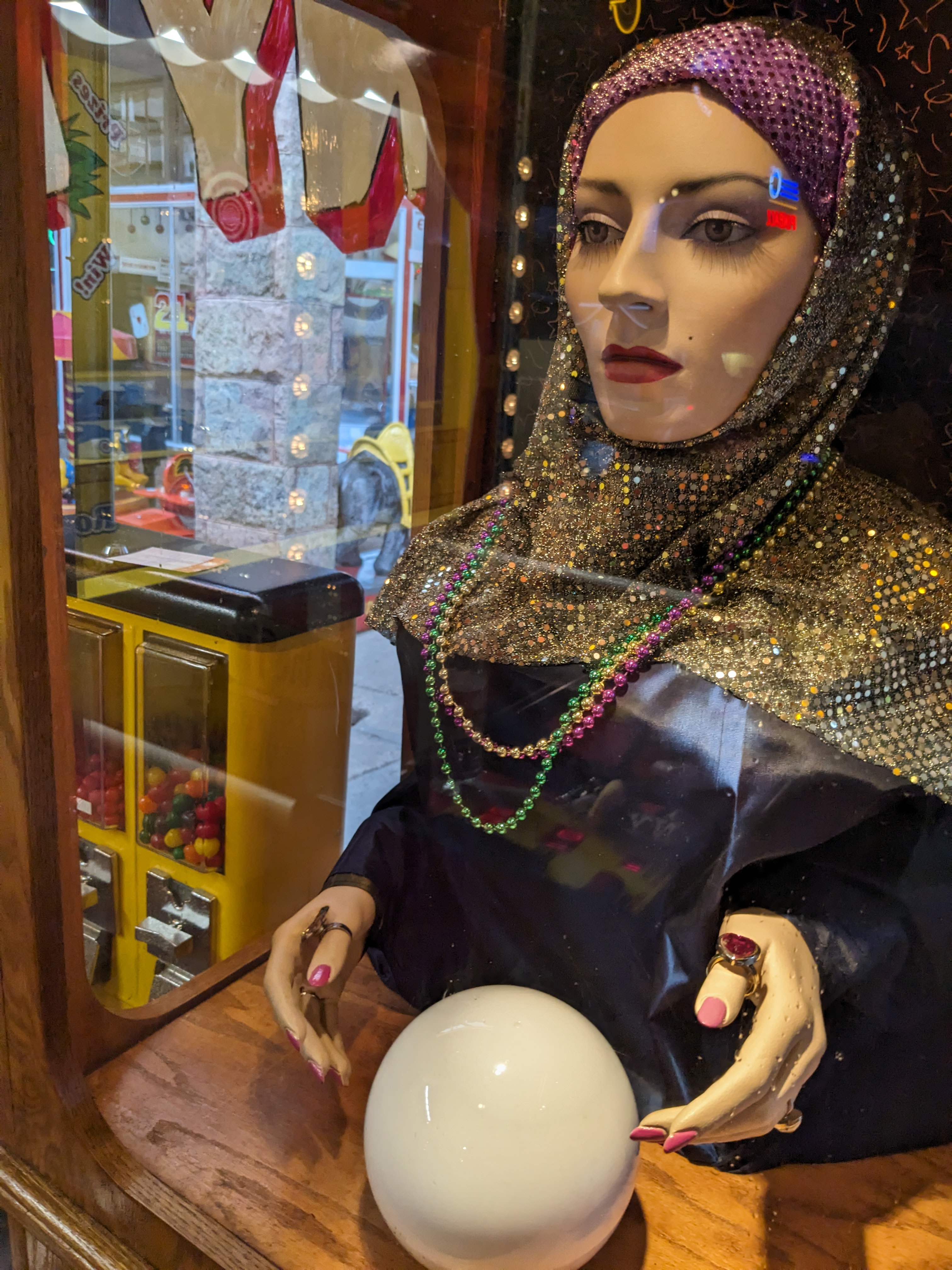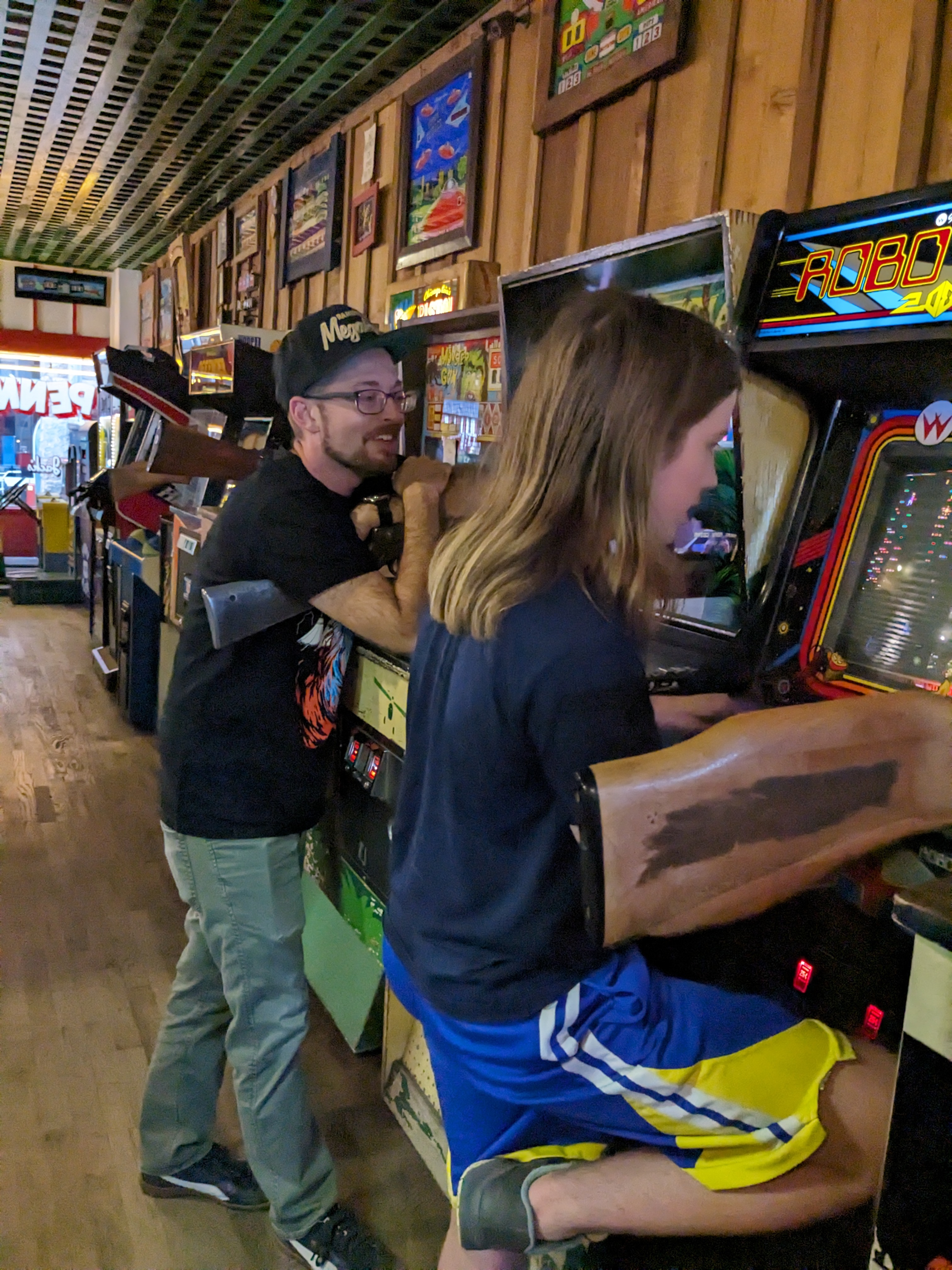 Manitou Springs is known for its healing waters. If you drink from all seven of the springs, you're supposed to get special healing powers. Alex has done this, but he says he doesn't feel healthier (he also has kissed the Blarney Stone—we were trying to think of other local-legend things one might have done, but came up empty). Petra and Silas tasted the waters. Silas said it was super gross. Petra described it as "interesting, and a little salty."
The next day, we took Appa for a hike at the Garden of the Gods. Whenever I'm in a landscape that is so completely different from the one I'm used to, I have a hard time shaking the feeling that I've landed on another planet entirely. These sheer red rocks against the blue sky—unreal and majestic. We climbed a few of the easier ones. The views were incredible; photos don't do them justice. The kids scrambled up a crevice where they saw bats sleeping, and I spotted hawks high up.
I'm glad we went early, though—by the time we were leaving, it was getting crowded. Its one of the most famous spots in the area, so it's very popular (for all that one reviewer described it as, "Actually pretty lame and dull.").
After our hike, we were all pretty hot and tired, so we went back to Alex's house, had some lunch, and then went to check out Michael Garmin's Magic Town. It is a truly astounding art installation that just goes on and on, endless sculptures of people, animals, rooms, in this miniature town. Garmin used stage tricks like "Pepper's ghost" to make characters and walls appear and disappear. Tiny holographic people moved and sang. Mirrors made the alleyways seem endless. In the movie theater, Casablanca was playing on a tiny screen. Every time I looked at a room again, I spotted a new detail. It was a wild experience.
Afterward, we went to the Fifty-Niner, a board game speakeasy in the back room of Dice Guys. That was an absolute delight. They had drinks, charcuterie, and a library of over 200 board games to choose from. We tried (and failed) to figure out a Munchkin-derived board game, and then played several rounds of Mysterium (which we liked a lot). All while eating delicious food and drinking bathtub gin. Does it get any better?
The decor was very fun, and just overall, the feeling of the place was friendly, relaxed, and nerdy. My kids both said this was one of their favorite parts of the trip.
The next day, Alex and I took the kids and Appa for a short hike up Cheyenne Canyon. The drive up there was gorgeous. I could have hiked a good bit more than we did—it was beautiful, and the trails go on forever—but the kids were Hiked Out. I also was feeling the elevation a bit. It's wild how much faster I got winded!
Instead of more hiking, we went to the Ghost Town Museum. They've basically reconstructed an 1880s town indoors, with a general store, a post office, a saloon, etc. The kids enjoyed looking at all the random items, in some cases having to guess at what they were. We gave panning for gold a shot, but agreed that we'd all come up bust. Alex said if he had come west in the Gold Rush, he would rather sell the pans than look for gold in the streams.
That evening, we went out to the Buffalo Lodge Bicycle Resort for an Antivirus concert. Our time in Colorado Springs was marked by meeting people who just had a weird idea and went with it—a board game speakeasy, a tiny city built on stage magic, a century of game machines—and the bike resort is exactly in this vein. The bike resort is an old motel/lodge that is now specifically catering to cyclists. There were bicycles and bicycle-themed art everywhere. Lots of the people staying there showed up on two wheels.
They were hosting the Antivirus concert as a fundraiser for Medicine Wheel, a nonprofit that advocates for bike trails. Despite a downpour that delayed the concert by an hour, the evening was a success. The band ("suburban surfer punk") was great, and there was good food and drinks. The crowd was very into it. Alex usually does a nerd core rap about halfway through the set, and for this show, he debuted his first original—a rap about my nerdy kids. It was very sweet (and the chorus was about this blog, which made me feel a little guilty about how bad I've been at updating it lately!).
I'm so glad that we got to see Alex perform. And that we got to see him in his home. He's building a community—band, glass shop, local businesses where he's a regular. He's been through a rough couple of years, and I love seeing him finding his way.